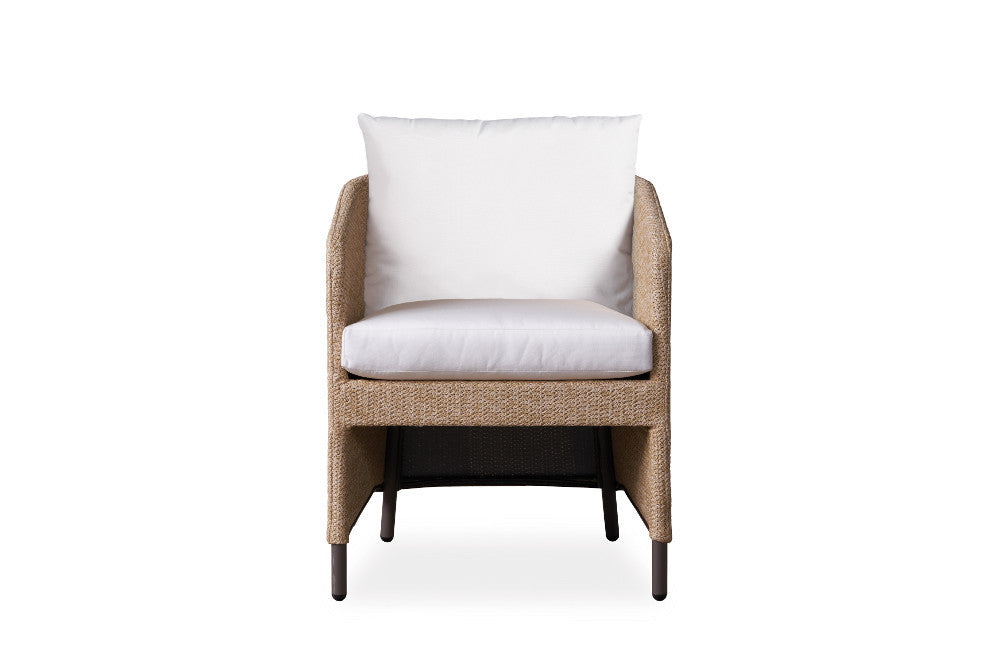 Lloyd Flanders Verona Wicker Dining Armchair
Cushion Fabric:
Sunbrella Bliss Aspen
Sunbrella Grasscloth Boulder
Sunbrella Grasscloth Caribou
Sunbrella Grasscloth Olive
Sunbrella Spectrum Graphite
Sunbrella Chronicle Crimson
Sunbrella Chronicle Mediterranean
Sunbrella Chronicle Midnight
Sunbrella Chronicle Pesto
Sunbrella Circulate Granite
Sunbrella Classic Linen Spice
Sunbrella Formation Petal
Sunbrella Formation Pistachio
Sunbrella Tabloid Cornflower
Sunbrella Affinity Parchment
Sunbrella Consider Teaberry
Sunbrella Milestone Pebble
Sunbrella Pebblestone Claypot
Sunbrella Pebblestone Dove
Sunbrella Pebblestone Flax
Sunbrella Reach Pistachio
Sunbrella Restore Sparrow
Sunbrella Surpass Daybreak
Sunbrella Treescale Burlap
Sunbrella Treescale Olive
Sunbrella Treescale Sierra
Sunbrella Mirage Seaglass
Sunbrella Palm Toile Paradise
Sink in to contemporary comfort with the Martinique Collection from Lloyd Flanders. The Martinique collection features a refined low profile, moderate scale design and plush cushioning that creates a luxurious seating experience.
Lloyd Flanders uses state-of-the-art manufacturing processes and equipment combined with over 100 years of tradition and furniture knowledge to produce heirloom-quality furniture to be enjoyed for generations to come. In addition to their iconic Lloyd Loom collections, Lloyd Flanders offers woven vinyl and sustainably-sourced teak products. With collections spanning from traditional to contemporary, over 500 fabrics, and the widest variety of natural wicker finishes available today, you can create the perfect customized look for any space.
Lloyd Flanders proprietary Lloyd Loom® wicker is a natural fiber wicker with a long-lasting, high performance Durium polyester coating for outdoor durability and flexibility. The continuous weave avoids burrs and cracking. It also increases visual appeal by eliminating any visible material ends. All of our exclusive Lloyd Loom® products are available in 19 custom finishes.
Features:
Welded all-aluminum frames are corrosion-resistant and extremely durable. These frames require minimal maintenance and should retain their finish for many years of use.
100% Virgin Vinyl. Lloyd Flanders vinyl furniture is made with 100% virgin vinyl and has no added "filler." This assures that our vinyl will remain soft and pliable through many years of use and will hold its shape. We also include UV inhibitors to help prevent excessive fading.
Can be cleaned with warm water and a mild detergent.
Premium Cloud Cushioning. Constructed from multiple layers of 100% polyester fiber, the cushions are hydrophobic (drains and dries more easily), hypoallergenic, antimicrobial, and mildew-resistant. Premium Cloud Cushioning creates the perfect balance between comfort and support.
Hand-crafted
Lloyd Flanders® is the original all weather wicker.
Lloyd Loom® wicker was developed in 1906 and continues to be manufactured in Menominee Michigan.
Dimensions:
24.5"W x 24.5"D x 30"H