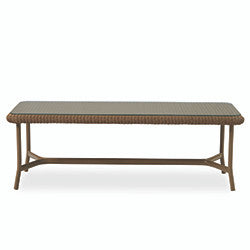 Lloyd Flanders Solstice 53" Rectangular Cocktail Table
Step 1: Choose Your Furniture Color:
Lloyd Loom White
The Solstice collection from Lloyd Flanders features rustproof aluminum frames, and wicker reinforced with aluminum wires and a Durium finish that prevents burring, peeling, and cracking. Select the high backs and weather-resistant cushions for additional lasting luxury. The sleek, European style furniture from this collection will enhance any outdoor living space.
Features:
Welded all-aluminum frames are corrosion-resistant and extremely durable. These frames require minimal maintenance and should retain their finish for many years of use.
Wicker will not absorb moisture thus will not expand or contract which can result in weakening and rotting.
Can be cleaned with warm water and a mild detergent.
Premium Cloud Cushioning. Constructed from multiple layers of 100% polyester fiber, the cushions are hydrophobic (drains and dries more easily), hypoallergenic, antimicrobial, and mildew-resistant. Premium Cloud Cushioning creates the perfect balance between comfort and support.
Durium® Modified Polyester Enamel. This unique coating is a melamine cross linked thermoset backing polyester modified with an acrylic copolymer to enhance performance requirements such as exterior durability detergent and chemical resistance.
Durium® is a high performance coating which is designed to be both hard and flexible.
Lloyd Flanders® is the original all weather wicker.
Lloyd Loom® wicker was developed in 1906 and continues to be manufactured in Menominee Michigan.
Dimensions:
17.5"H x 52.5"W x 22.5"D