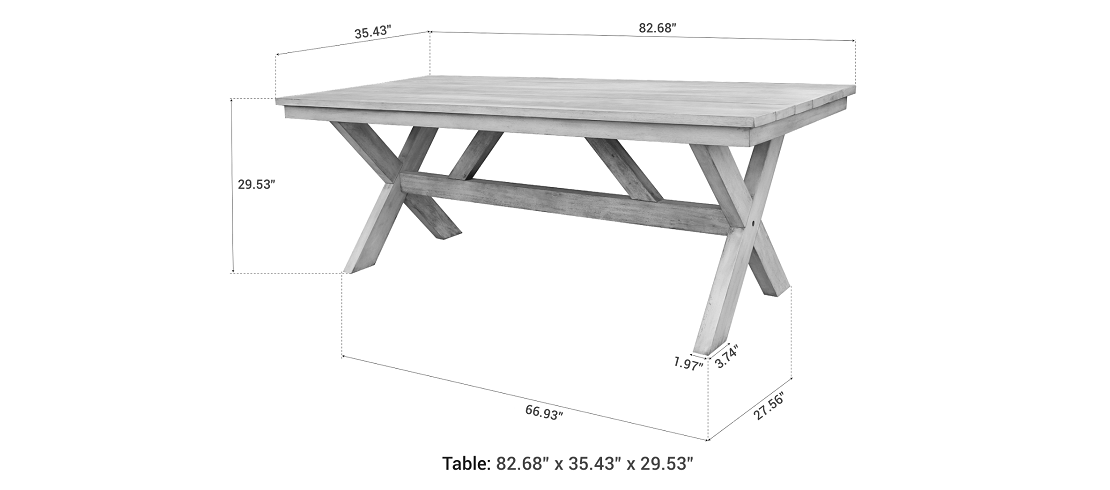 Outsy Santino + Melina 7-Piece Outdoor Dining Set - Wood Dining Table and 6 Wood, Aluminum, and Rope Chairs, White Legs
Outsy Santino + Melina 7-Piece Outdoor Dining Set - Wood Dining Table and 6 Wood, Aluminum, and Rope Chairs, White Legs
Elevate your outdoor dining experience

!

This exquisite ensemble harmoniously merges the rustic allure of wood with the contemporary elegance of aluminum and rope accents. The set includes a stunning wood dining table and six wood, aluminum, and rope chairs with chic white legs, creating a visually captivating and comfortable outdoor space.
Experience outdoor dining in style!
From intimate family meals to gatherings with friends, this ensemble offers not only a functional dining space but also a visual feast that enhances your outdoor ambiance. Enjoy the perfect combination of natural charm and modern allure in every meal you share.
Highlights:
Crafted Elegance: The Santino Wood Dining Table stands as the centerpiece, featuring a meticulously crafted wooden surface that adds warmth and authenticity to your outdoor gatherings.
Modern Fusion: The six Melina Chairs effortlessly blend wood, aluminum, and rope to create a harmonious balance between natural beauty and modern aesthetics, offering a unique and striking dining experience.
Artful Rope Weave: The chairs showcase an artful rope weaving on the backrest and sides, enhancing both visual appeal and ergonomic support for a comfortable seating experience.
Chic White Legs: The chairs' white legs add a touch of sophistication and contrast, accentuating the beauty of the wooden table and the surrounding outdoor environment.
Durable Design: Designed to withstand outdoor elements, both the table and chairs are built with durability in mind, ensuring long-lasting quality and easy maintenance.
Features:
Table Features:
Natural weathered look
Weather-resistant wood offers protection against moisture, mildew, and other hazards
Sturdy design that provides a solid foundation for serving all your favorite meals
Handcrafted by the skilled artisans at OUTSY
Light Assembly Required
Chair Features:
Natural weathered look
15mm weather-resistant rope provides a unique design while also preventing moisture damage
2-inch solid foam cushion provides outstanding comfort, while also being fully weather resistant for easy care and cleaning
Sturdy powder-coated aluminum frame and legs ensure outdoor durability
Handcrafted by our skilled artisans
No assembly required — just unbox and enjoy!
Specifications
Construction Materials: 15mm Weather Resistant Flat Rope, Aluminum, and Wood
Frame Materials: Aluminum and Wood
Coated Painted Frame: Yes
Seat Cushions Included: Yes
Complete Dimensions
Table Dimensions:
Table Width: 82.68 Inch
Table Depth: 35.43 Inch
Table Height: 29.53 Inch
Chair Dimensions:
Chair Width: 25.59 Inch
Chair Depth: 24.02 Inch
Chair Height: 28.4 Inch
RESOURCES: