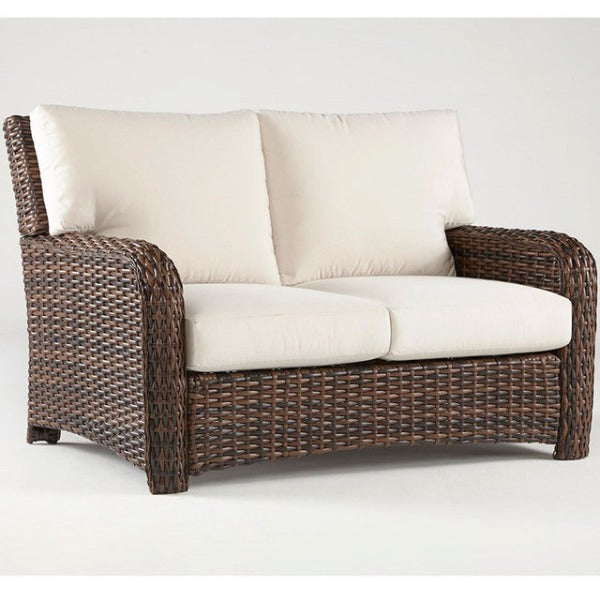 South Sea Rattan Panama Resin Wicker Patio Set
Cushion Fabric:
Sunbrella Canvas Capri
Sunbrella Spectrum Mushroom
Sunbrella Spectrum Indigo
Outdura Canvas Aquamarine
Outdura Canvas Natural White
Outdura Sparkle Sandstone
Sunbrella Dupione Deep Sea
Sunbrella Dupione Cornsilk
Sunbrella Dupione Celeste
Sunbrella Spectrum Cayenne
Sunbrella Spectrum Cilantro
Sunbrella Frequency Parchment
Sunbrella Dupione Peridot
Sunbrella Dupione Paradise
Sunbrella Brannon Redwood
Sunbrella Catalina Tinsel
Sunbrella Foster Surfside
Sunbrella Foster Metallic
Outdura Tradewinds Nautical
Outdura Soulmate Charcoal
Sunbrella Adaptation Indigo
Sunbrella Fretwork Pewter
Sunbrella Spectrum Peacock
Sunbrella Canvas Antique Beige
SOUTH SEA RATTAN PANAMA RESIN WICKER SET
Do you dream of creating a tropical oasis in your own backyard? Do you long for a place where you can escape the stress of everyday life and enjoy the beauty of nature? If so, you'll love the South Sea Rattan Panama Resin Wicker Patio Set. This stunning set is designed to bring you the ultimate in outdoor comfort, style, and durability. 
Whether you want to relax, dine, or entertain, this set has everything you need to make your outdoor space a paradise.
BENEFITS AND FEATURES
Experience the finest in outdoor craftsmanship

with this hand-woven resin wicker set that showcases exquisite details and quality.

Enjoy the timeless elegance

of traditional wicker without worrying about fading, cracking, or peeling. This set is made from premium-grade resin wicker that can withstand any weather condition and retain its charm for years.

Indulge in the plush comfort

of the deep cushions made from high-density foam and covered with weather-resistant fabric. You'll feel like you're sitting on a cloud as you sink into these cushions that conform to your body and provide optimal support.

Customize your outdoor space

with the modular design of this set that allows you to arrange the pieces in various configurations. You can create cozy corners, spacious seating areas, or elegant dining spaces according to your needs and preferences.

Impress your guests

with the sophisticated style of this set that features clean lines, neutral colors, and sleek designs. This set will add a touch of refinement and class to any outdoor setting.

Maintain your outdoor oasis with ease

with this low-maintenance set that only requires a simple wipe-down or a quick wash of the cushion covers. You'll spend more time enjoying your patio than cleaning it.

Transform your backyard into a tropical haven

with this set that evokes the allure of exotic destinations. The Panama set's design is inspired by the lush landscapes and serene beaches of Panama, a country known for its natural beauty and rich culture.
Don't settle for anything less than the best when it comes to your outdoor living. Treat yourself to the South Sea Rattan Panama Resin Wicker Patio Set and experience the difference that quality, comfort, and style can make. This set is more than just furniture; it's a lifestyle. 
SPECIFICATIONS:
| | |
| --- | --- |
| | Details |
| Material | Premium Resin Wicker |
| Frame Material | Powder-Coated Aluminum |
| Cushion Material | High-Density Foam, Polyester Fabric |
| Color Options | Multiple - Please inquire for availability |
| Set Includes | - 1 Sofa <br> - 2 Lounge Chairs <br> - 1 Coffee Table |
| Modular Components | Yes, for versatile arrangements |
| Assembly Required | Minimal (Instructions included) |
| Weather Resistance | All-Weather, UV-Resistant |
| Cushion Covers | Removable, Machine-Washable |
| Dimensions | - Sofa: 76.5" W x 36.5" D x 36" H <br> - Lounge Chair: 33" W x 36.5" D x 36" H <br> - Coffee Table: 43" W x 23.5" D x 17" H |
| Weight Capacity | Sofa: 750 lbs <br> Lounge Chair: 350 lbs each <br> Coffee Table: 150 lbs |
| Maintenance | Wipe down resin wicker, machine wash cushion covers |
| Warranty | Manufacturer's 2-Year Warranty |
| Shipping | Ships in multiple packages, some assembly required |
Order yours today and get ready to enjoy your own slice of paradise!