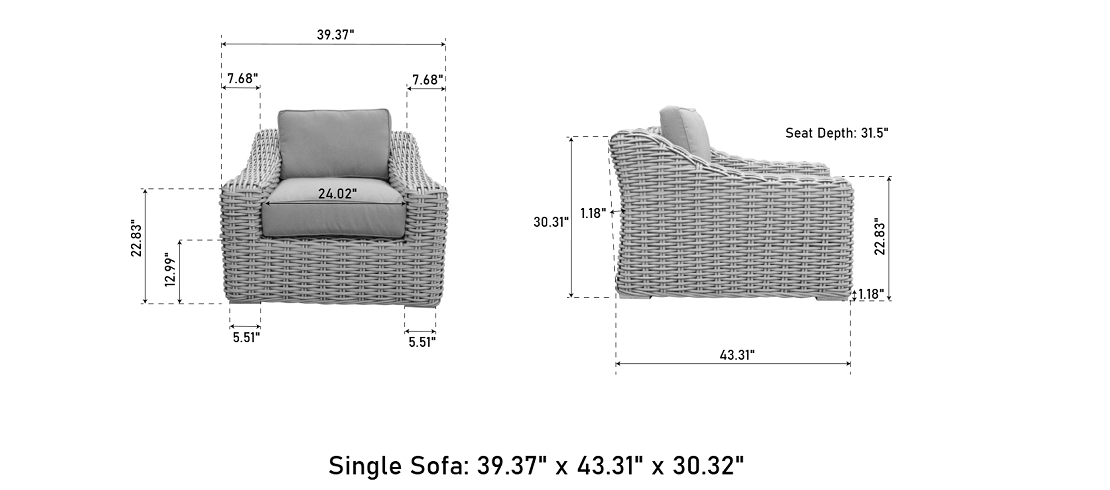 OUTSY Alejandra 6-Piece Outdoor Wicker Furniture Set with Coffee Table in White/Grey
OUTSY Alejandra 6-Piece Outdoor Wicker Furniture Set with Coffee Table in White/Grey
Your outdoor living space is more than just an area; it's a retreat where you can unwind, entertain, and create cherished memories. Whether you seek to revel in the tranquil sunset hues on your back porch or immerse yourself in the excitement of a fully equipped outdoor living room, the OUTSY Alejandra 6-Piece Outdoor Wicker Furniture Set is your ticket to transforming your outdoor haven.
Discover the Ultimate in Handcrafted Luxury
Crafted with meticulous attention to detail, the OUTSY Alejandra collection is a symphony of sophistication and comfort. This L-shaped ensemble includes four modular sofa segments, an elegant matching chair, and a stylish tempered glass coffee table, all adorned with a distinctive wicker design that exudes timeless charm.
Unparalleled Comfort and Style
Experience the epitome of relaxation as you sink into the plush deep cushions of the OUTSY Alejandra furniture set. The thoughtfully designed sloped armrests beckon you to unwind, creating an atmosphere of laid-back luxury. Whether hosting gatherings or indulging in personal moments of reprieve, this collection seamlessly blends comfort and style.
Weather-Resistant Resilience
Embrace the freedom to enjoy your outdoor space year-round, no matter the weather. The OUTSY Alejandra furniture set is meticulously engineered to withstand the elements, making it a durable and reliable companion for any outdoor setting across the country. Rain or shine, your outdoor sanctuary will remain as inviting as ever.
Features:
Natural weathered look
Handwoven, recyclable 12mm high-density polyethylene (HDPE) provides durability and strength in an elegant style
6-inch water- and UV-resistant solid foam cushions provide the maximum level of both comfort and durability
Our washable cushion covers are mold, mildew, and stain resistant, with zippered closure for easy removal and cleaning
Rust-resistant powder-coated aluminum frame provides sturdy support and environmental resistance
8mm Tempered glass coffee table is sun, rain, and snow resistant for year-round use
5 stylish and comfortable decor pillows
Handcrafted by skilled artisans
No Assembly Required
Complete Dimensions:
Left Sofa

Width: 58.3 Inch
Depth: 43.3 Inch
Height: 30.3 Inch
Right Sofa
Width: 58.3 Inch
Depth: 43.3 Inch
Height: 30.3 Inch
Corner Sofa
Width: 43.3 Inch
Depth: 43.3 Inch
Height: 30.3 Inch
Middle Sofa
Width: 30.1 Inch
Depth: 43.3 Inch
Height: 30.3 Inch
Chair
Width: 39.7 Inch
Depth: 43.3 Inch
Height: 30.3 Inch
Table
Width: 43.3 Inch
Depth: 25.6 Inch
RESOURCES: